Over 200 artists show at South London annual alfresco Art Fair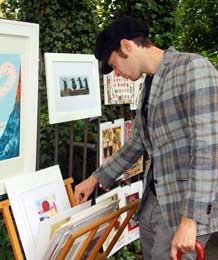 For the 11th year running residents of South London's Josephine Avenue will once again be turning their sleepy street into a bustling Art Fair. With over 200 exhibitors this is a great opportunity to buy work direct from the artists and discover a wealth of creative skills, including street-art, painting, printmaking, photography and mixed media. Exhibitors range from the novice to the established and with prices to match this really is an event for all art lovers, whatever your budget.
Please note that we have now moved the event to the SECOND weekend in July.
This is the weekend BEFORE the Lambeth Country Show.

This year we will be introducing our new and exciting Street Art area organised by PositiveArts.co.uk where artists will be be creating live work on our nine White Walls. Also to celebrate London Underground's 150th anniversary we will be spraying a London Tube Train, which will be exhibited in Brixton Square the following week.
To nourish your senses even further we have a mouth watering selection of international food stalls, including Mexican, Punjab, Carribean and a Continental cafe.
All sales during the weekend will help raise funds for our charity partners who this year include our two local schools and the Southside Rehabilitation project.
So make a date in your diary for some al fesco art this Summer…

13th and 14th July, Josephine Avenue, London SW2